Distributor Theme Documentation
This documentaion contains full instructions on how to retreive a Citron store ownership and use it to sell Citron products online in your market.
There are two main sections in this documentation. First, the handover process, walks you through the steps required by you to gain ownership of Citron's Distributor's Theme. The second section, FAQs, aims to answer some commonly asked questions about dos and don'ts while managing the Citron Distributor's Theme.
---
Created: 27 October, 2022
Update: 27 October, 2022
If you have any questions that are beyond the scope of this documentation, please feel free to contact our developer directly or your main contact at Citron.
---
1. Store ownership transfer
Follow the steps below to setup your site template:
---
2. Content update
To ensure the content on your new Citron store is correct we kindly ask you to provide information relating to products and local info. Please see below a list of required information/content.
List of products you're planning to sell in your store.

Note: We are going to import your listed products exactly as they appear at the time in Citron Dubai store. However, the following product fields won't be imported:
• Pricing fields (Price, Compare at price, charge tax checkbox, cost per item)
• Inventory (SKU, quantity)

Content for the following pages:

Privacy Policy
Shipping Policy
Returns Policy
Terms & Conditions

Your public store info for website's contact us page and footer (email, physical address (if applicable), opening hours, phone number)
Additional info for the FAQ page (if necessary)
Once we receive all the information it would take 1-2 working days to implement everything depending on the number of products you're planning to sell.
Please send the content listed above to developer@newwindowmarketing.com
Once we receive all the information it would take 1-2 working days to implement everything depending on the number of products you're planning to sell.
At this stage we are also going to activate some apps that are necessary for the theme to function properly. Please find a list of applications that will be installed on your system below:
| # | App name | Monthly cost |
| --- | --- | --- |
| 1 | ReStock: Back in stock notification | $39 |
| 2 | Zoorix | ~$49 (depending on products sold monthly) |
Our developer will notify you when the content update is complete.
---
3. Store configuration
Now is your turn to configure the store's settings. Below are the settings that need to be configured in order for the store to be able to function:
Store details - if anything is remaining after your initial registration.
Payments - setup what payment methods you will accept and integrate.
Shipping and delivery - setup shipping zones and methods.
Taxes and duties - configure the tax information.
Notifications - configure email notifications.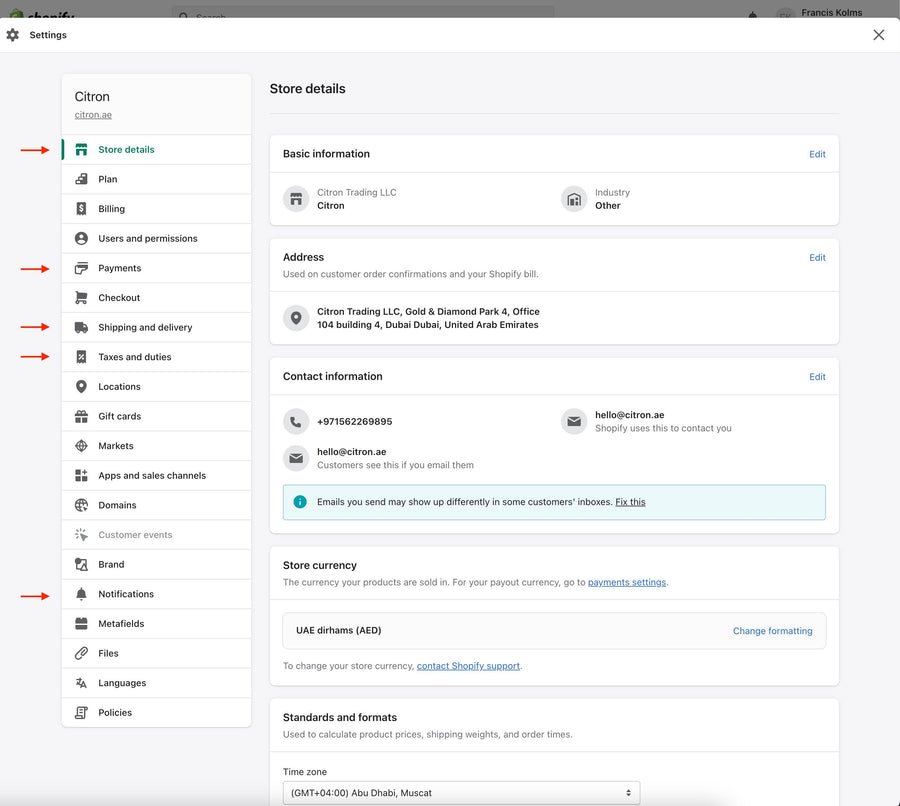 Since the products were imported with empty inventory and price fields, please update those for each product: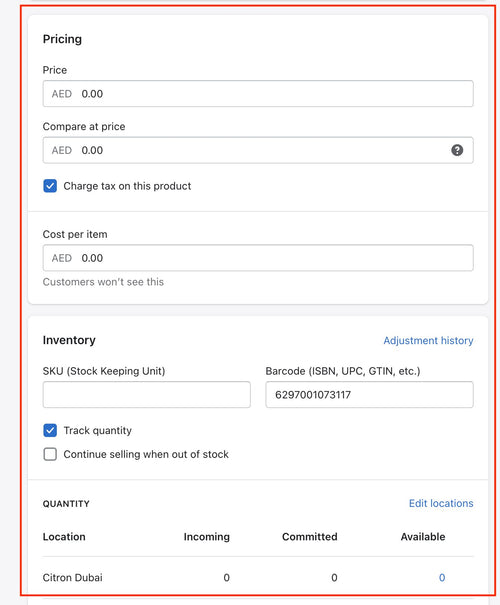 Please notify our developer at developer@newwindowmarketing.com once you have completed the store configuration.
---
4. Review
At this stage our developer will check the following:
Review navigation, design, page content
Place a test order without customisation
Place a test order with a customised product (if applicable)
We kindly ask you to check the following:
Review content that relates to shipping, taxes and contact details
Review product prices
Place a test order and ensure that shipping is charged correctly
Please notify our developer at developer@newwindowmarketing.com when you're finished with review and feel free to ask for support if necessary.
If you would like to improve, add or remove a feature, please refer to the Theme updates section in FAQs.
---
5. Launch
Happy days! The theme is ready to launch.
At this stage you agree with our developer on the exact date and time of the store launch.
Next, in order to launch the store all we need to do is to connect your domain to the Shopify store. Our developer is going to send you data for your domain's DNS configuration. If you're not a technically minded person then feel free to provide access to your domain's provider and our developer will do all the configuration for you.
Shortly after the DNS records are updated your domain will be connected to Shopify store.
Your theme is now live and ready to sell Citron products to your market online 🥳
---
FAQs
Please note that in order to keep our brand looking consistent across the world, many elements that are not related to your local market are not editable. Below is a list of FAQs about what to do if you'd like to add, edit or delete features or products from your Citron store.
Theme updates
Product updates
Apps
Text only updates
Blog
---
Support
If this documentation doesn't answer your questions, please use the contact details below:
Technical enquiries: Francis at developer@newwindowmarketing.com (GMT+1 timezone | 7am to 3pm | aiming to respond to your enquiries within 24 hours during weekdays).
Everything else: Your main contact at Citron.
Note:
While we aim to provide the best support possible, please keep in mind that Shopify and installed apps regularly update their systems meaning some screenshots or guides might sometimes look different than in this documentation. If you feel like anything could be improved or updated to provide you a better experience please don't hesitate to contact us.